The National Composite Index on Family Planning (NCIFP) is a new tool developed to support FP2020's efforts to improve the enabling environment for family planning. It measures both the existence of policies and program implementation, using 35 individual scores organized under five dimensions: strategy, data, quality, equity, and accountability. The NCIFP builds on the long-standing National Family Planning Effort Index (FPE), and, in 2014, the two questionnaires were fielded jointly in 90 countries.
The NCIFP provides new and innovative data about key areas that are important to family planning, but, have not been well measured in the past. It represents an important step in pushing forward the measurement agenda.
FP2020's Performance Monitoring & Evidence (PME) and Rights & Empowerment (RE) Working Groups provided oversight and technical guidance for the development of the NCIFP. Avenir Health's Track20 Project led the data analysis. Results from the NCIFP's battery of 69 questions and select questions from the FPE were analyzed, and, after several iterations, a final set of 35 items was chosen to comprise the NCIFP scores.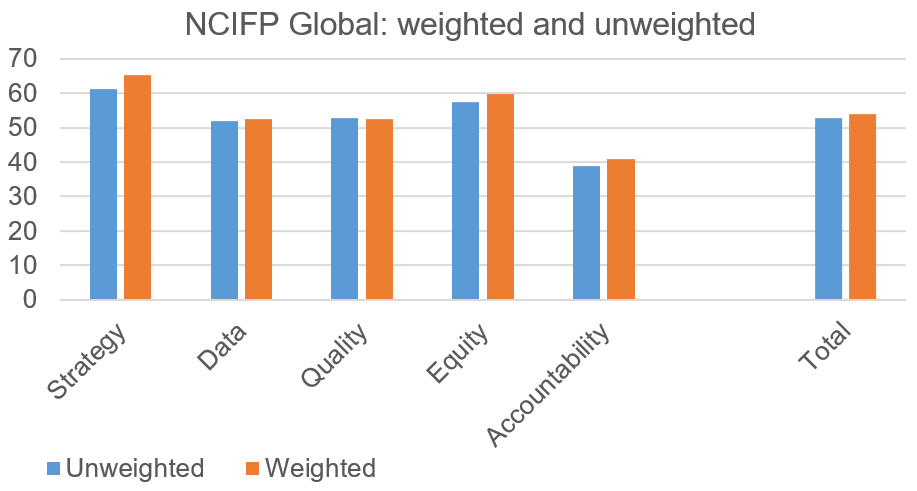 The total score for the NCIFP is the average of the 35 individual scores for each country. The overall score, averaged over all countries (unweighted), is 53, or about half of the maximum possible (representing very strong effort on all criteria). Looking at the five dimensions there is wide variability; strategy scored the highest, and accountability the lowest, with a 23-point gap.
Regions also differ, with overall scores ranging from a high of 57 to a low of 39 (weighted). Interestingly, both Francophone and Anglophone sub-Saharan Africa have higher overall scores than the other regions, and score at or near the top for all five dimensions.
The NCIFP presents an opportunity for countries to engage in discussion around important issues related to strategy, data use, quality, equity and accountability. By looking through the aggregate and individual scores and benchmarking performance against other countries or regional averages the data can be used to highlight successes, and, areas that may require attention. Track20 has developed an Interactive Discussion Guide (see below) to help encourage country dialogue around the NCIFP results.
| | |
| --- | --- |
| This report presents country results for the new National Composite Index for Family Planning (NCIFP), a new measure developed in support of FP2020 that scores countries across five dimensions: strategy, data, quality, equity, and accountability. | NCIFP Report |
| This two-page brief gives an introduction to the NCIFP, and includes a list of the 35 individual scores included in the measure. | NCIFP Brief: About |
| This two-page brief gives an overview of global and regional NCIFP results. | NCIFP: Summary Results |
| This presentation gives an overview of the NCFIP, including information on how the NCIFP was developed, a summary of global and regional results, and examples of how the NCIFP can be used to promote discussion in country. | NCIFP PowerPoint Presentation |
| These two-page country briefs give an overview of key NCIFP results for each country, looking at overall scores, scores by dimension, and individual scores. | All NCIFP Country Briefs |
| This interactive tool allows countries to explore their NCIFP results, and can be used to facilitate discussions among stakeholders about the results and potential action steps. | NCIFP Interactive Discussion Guide |