Although the focus of FP2020 is on modern methods, it is important to remember that many women globally are attempting to prevent pregnancies through the use of traditional methods. While these methods are often not very effective and result in unintended pregnancies, it is significant that the women using them are actively trying to avoid becoming pregnant.
Traditional use varies by country and region and over time, but in many countries women still rely on traditional methods. Figure 1 below shows an analysis for FP2020 countries in which the annual rate of change in traditional method use between the last two surveys was calculated [1]. In each country where there were two survey data points available, traditional use was compared across the two surveys. A negative value for a country means that traditional use decreased between the two surveys, whereas a positive value means that traditional use increased.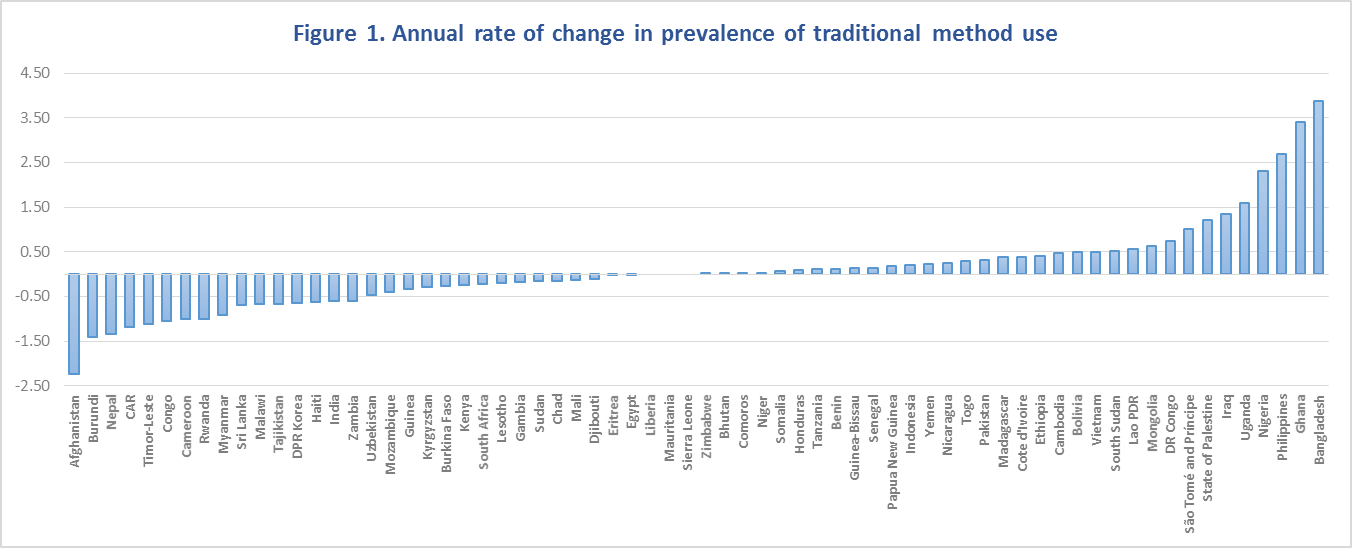 The results of this analysis show that, across the 68 countries examined here, 29 countries saw a decline in the use of traditional methods, while 29 countries had an increase in the use of these methods, and ten countries (in the center of the graph below) had annual rates of change of less than 0.1 percentage point, so can be categorized as showing minimal/no change. The largest annual increase was seen in Bangladesh (3.9 percentage points per year between a 2012-13 MICS and 2014 DHS) and the largest annual decrease was seen in Afghanistan (-2.2 percentage points per year between a 2007-8 National Survey and a 2010-11 MICS).
Eight countries (Afghanistan, Burundi, CAR, Congo, Cameroon, Nepal, Rwanda, Timor-Leste) saw annual decreases of 1 percentage point or more, while eight countries (Bangladesh, Ghana, Iraq, Nigeria, Philippines, State of Palestine, Sao Tome and Principe, Uganda) saw annual increases of 1 percentage point or more. It is important to note that in some of the countries which experienced significant decreases in traditional use (such as Congo, Cameroon, Rwanda and Sri Lanka), traditional use still remains high overall.
Annex : Sources and Annual Rate of Change in Traditional Method Use, by FP2020 Country